AMITYVILLE II – POSSESSION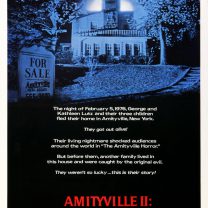 Categories : Puntata 08 – 31 Agosto 1990
Release Date: 31 August 1990
Description
AMITYVILLE II – THE POSSESSION
Un film di Damiano Damiani
Con Burt Young, Rutanya Alda, James Olson.
Titolo originale: "Amityville II: The Possession".
durata 104 min. – USA 1982.
Trama:
Una famiglia si stabilisce in una villa in campagna, ad Amityville, ma la presenza di Satana fa manifestare fenomeni terrificanti. I componenti della famiglia sono posseduti dal demonio: Sonny, il figlio maggiore, e la sorella Patricia danno sfogo al loro amore incestuoso. Nonostante l'intervento di padre Adamski, che interviene per esorcizzare la casa, Sonny sterminerà tutta la famiglia.
U